THINGS TO DO IN SANTA FE
Southwest Tours from Santa Fe, NM
Our Multi-stop Day Tours of New Mexico from Santa Fe are perfect for experiencing our splendid cultural and scenic wonders without driving, lunch included. Go on a Scenic tour, take part in the culture, learn about the unexpected history of NM, while visiting: movie locations, National Monuments, Ghost Ranch, hot springs, and much, much more!
CURRENT TOURS LEAVING FROM SANTA FE
SEE WHAT WE OFFER

Due to Coronavirus (COVID-19) closures, we have suspended tours until further notice. As we offer full refunds up to 24 hours in advance, you can keep your bookings or make new ones after that date, and get a refund if the situation or your travel plans change. Be safe!

LINK: Information on COVID-19 closures and cancellations around Santa Fe, NM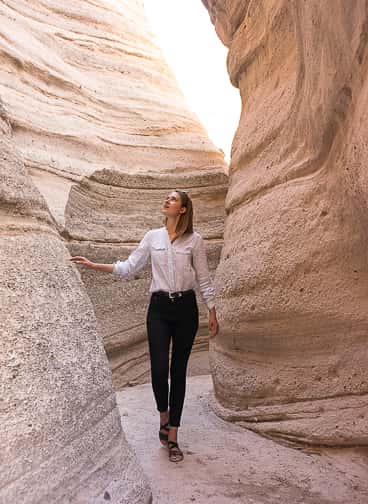 SCENIC & PHOTOGRAPHIC
Each tour is a handpicked Southwest Photography tour and itinerary of sublime beauty if you choose it.
HISTORIC & CULTURAL
Unexpectedly familiar History, your history, mingles with the strange and fantastic in New Mexico.
MOVIE SET & LOCATIONS
Easily more than 100 Hollywood movies have been shot at these locations — discover the reason!
SCHEDULED OR CUSTOM TOURS
SCHEDULED MULTI-STOP TOURS
CURATED ITINERARIES
Historic Santa Fe, New Mexico is perfectly situated for tours of the surrounding cultural and scenic wonders. We've carefully selected regional routes composing the highlights of the Southwest.
Looking for what-to-do in Santa Fe? Consider visiting more than one destination in one day without driving. Our guided bus tours are a good way to discover both what is famous and little known in this enchanted region of the United States. Meet delightful couples and independent travelers!
CUSTOM GUIDED TOURS
TAILORED ITINERARIES
Group discounts and custom itineraries are available for your next small-group getaway. Share your experience and make memories with a group.
Custom tours for Wedding parties, Business conferences, Family events, or other small groups, provide engaging activities and sightseeing opportunities for everyone to share!
Provide us with your CUSTOM TOUR details!
TourShield is an industry-leading insurance coverage developed by FanShield, LLC, technology company. For a small fee as a percentage of your ticket order, you will be reimbursed for the entire amount paid, aside from the cost of the policy, if you're unable to attend the tour for a qualified reason. The most impressive aspect of TourShield is the scope of coverage.
Optional Third-Party Coverage Inclusions
Work travel conflicts
Injuries
Family emergencies
Unexpected illness
Car accidents
And other common issues
HISTORICAL + PARKS & MONUMENTS
OUTLAWS + NATURAL WONDERS + O'KEEFFE
SOVIET SPIES + ROUTE 66 + CHURCHES
HOT SPRINGS + CHILIES + SPANISH GOLD
EASY RIDER + PETROGLYPHS + PUEBLOS
D. H. LAWRENCE + MOVIE RANCH + ETC